WOWSERS!! FINALLY SOME NIFTY LINKS!!! =)
These are some of my favorite links. I advise you to check them out. Your life may depend on it. (I am lying.)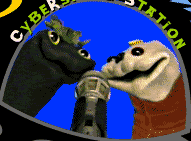 THE SIFL AND OLLY SHOW!! I LOVE THIS SHOW... BEST SHOW ON EARTH. I HAVE TO SAY THANKS TO MTV. THEY DON'T HAVE ENOUGH VIDEOS BUT MAYBE BECAUSE OF THIS SHOW I WILL JUST FORGIVE THEM.

THIS IS ONE OF THE VERY BEST PLACES TO FIND GREAT MP3'S!!! NEVER BUY A CD AGAIN!!! heh heh heh. (Wouldn't want to spend money, now would we???)
THIS IS A REALLY USEFUL MULTI-SEARCH ENGINE! SEARCH THE NET FOR EVERYTHING FROM ABRACADABRA TO ZIPPERS. (Well... YOU try to think of some clever words starting with A and Z. I give up.)

IF YOU WANT TO PLAN A TRIP, THIS IS THE SITE TO SEE. YOU CAN GET MAPS AND EVEN EXACT DRIVING DIRECTIONS TO ANYWHERE IN THE US. (Almost anywhere... Who wants to drive to Hawaii anyway?)
HERE YOU CAN PLAY ALL SORTS OF GREAT ONLINE GAMES. I THINK YOU WILL LOVE IT. AND THEY ALL HAVE TO DO WITH CANDY....MMM MMM GOOD!

YOU CAN HEAR MUSIC LIKE IT WAS MEANT TO BE! EVERYTHING FROM MOVIE THEMES TO PUNK AND SKA MIDIS. PRETTY CRAZY AND YET POSSIBLY COOL.